Manage, nurture, and grow your client base with
James Legal CRM
Send your prospects killer content
Automate both your prospect follow-up and your review solicitation
Monitor on one dashboard your marketing efforts and telephone follow-up
Save your firm hundreds/month with our business process analysis
Send your prospects killer content
James Legal CRM is pre-loaded with a large collection of specialty-specific educational content backed by our 36 years editing and publishing how-to law books. You get a 100-page book, 4-color booklets, extensive FAQs, educational letters, and much more.
100-page book. Lawyers with books impress prospective clients. A well-written book demonstrates your expertise, answer prospects' questions, and instantly sets you apart from the competition. But who has time to write one? We include a 100-page book with our marketing automation software.
Your book is branded with your name, photo, and contact information. A digital version is sent automatically to your new prospects, along with a cover note from you. We offer your book on your website with a pop-up that requests contact and qualifying information, then instantly forwards the response form to you and your team. You also recieve 10 printed copies delivered to your office upon signup (more are available at cost).
We provide content for most practice areas, but here you can view a sampling from the following specialties:
Automated online review requests
96 percent of people looking to hire an attorney read online reviews before making their decision. Our software makes it easy to swiftly gather positive online reviews. The software generates reviews because no technical knowledge or review-site registration is required of the review writers. They simply draft a few sentences in the box you provide and then click.
Best of all, if one of your past clients provides a less-than-glowing review, you can "park" the review before it is posted and no one will see the negative review but you. Few lawyers aggressively pursue reviews, so those with lots of positive reviews stand out and see more cases as a result.
Our review generation software:
Automatically solicits testimonials. No tech knowledge is required of your clients … or you and your team.
You can hide any weak reviews before they are posted.
Designate the 4 and 5-star reviews you receive for posting on any of the major review sites: Google+, Yelp, Yahoo, and Bing. Our software does the work.
Gathers all of your online reviews on one web page added to your website.
Highly effective at building your review collection, which most prospects will read before deciding which lawyer to call. And positive reviews will boost your local ranking.
Automate prospect followup, intake, and repetitive tasks
Extensive, detailed, and fully-automated educational drip series. A single contact is insufficient for many prospects, so in addition to your book, our marketing software will send your prospects a lengthy and detailed series of educational pieces.
Different series exist for new prospects who haven't called to set an appointment, those who called but did not set an appointment, and those who missed their appointments. We send them FAQs, educational booklets, and process flow charts, along with emails which nudge prospects to call for an appointment.
James Legal CRM also automatically:
Reminds your staff of important tasks
Tracks critical dates associated with specific cases
Syncs with your email accounts to instantly add contacts to the system
Intuitive calendaring and appointment setting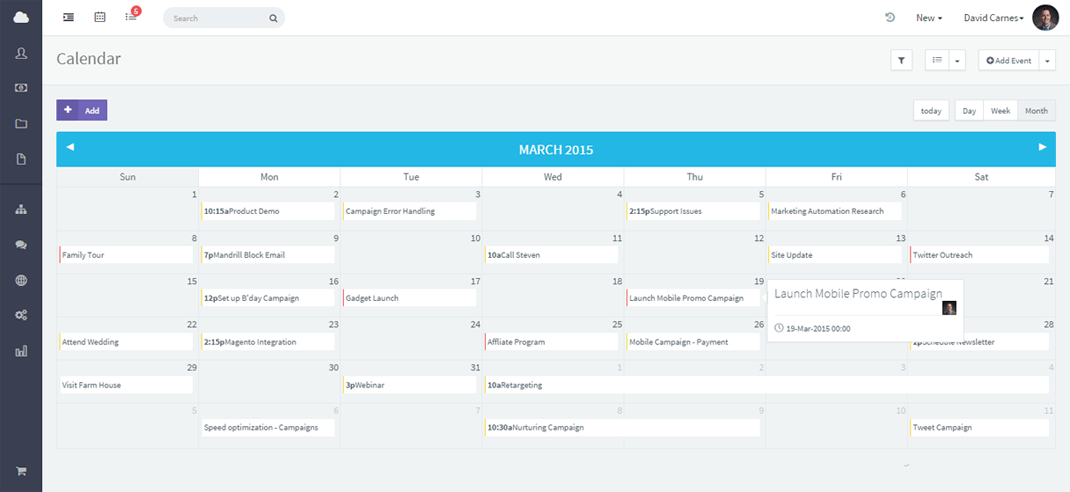 Sometimes prospects aren't ready to set appointments when calling.
Our software allows you to email a scheduling page to prospects that shows the available time slots in your calendar. These calendaring invitations can also be sent automatically to clients who you need to speak with by phone or in person. No more lengthy email exchanges trying to find a mutually-acceptable time.
And the same calendaring feature boasts built-in reminders, timelines, and easy-to-set task lists for your entire team. Color coding options make juggling multiple staff calendars a breeze.
One-click call tracking and monitoring
Unless you regularly "shop" your firm, it is hard to know how well your team is handling the critically-important intake process. Our marketing software makes this easy; you can listen to any call and read complete live chat transcriptions with one click.
Our software also allows you to determine the source of each call using a technique called "dynamic number insertion." This call-tracking from source to case will finally allow you to determine the real return rates on your various marketing efforts.
All key marketing data charted on one dashboard
We connect all your data sources to a single-page dashboard so you can instantly check the health of all your marketing efforts. In snapshot view you will see only your personal KPIs. Whether you use social media, television, radio, lead magnets, multiple websites, or pay-per-click ads, our dashboard integrates with hundreds of services.
And our dashboard is web-based so you can view it from any device and any location. It relies heavily on easy-to-follow colored charts, so its data is conveyed at a glance. As with all our software's features, we handle setup of the dashboard and provide training in its use.
White-glove onboarding and training

Whether you have proven processes in place, need help strategizing, or want to fully offload your implementation, we walk you through every step of the way. We get you up and running quickly, automate your tedious tasks, and teach you how to fully use the platform. Our hands-on approach and ongoing training ensures you get the most out of your partnership with us.
And when you become a James Legal CRM client, you gain access to our massive online Knowledge Base that's loaded with how-to videos, articles, and FAQs.
We also regularly advise you of the next steps you can and should take to continuously improve your marketing results, streamline your business processes, and boost your bottom line.
Streamline your staff's day with custom workflows
Every law firm—and every employee within that firm—uses James Legal CRM in a slightly unique way. Upon signing, we design personalized workflows for each member of your team, guiding them through the manual tasks necessary to trigger the system's powerful automation.
Our implementation specialists take time to dissect your current processes and understand your mission, how your firm works, and the goals of each staff member. Armed with this information, we then chart the best path to follow.
Our software is loaded with valuable add-ons including:
Web intake forms and pop-ups. 

Collecting contact information from visitors should be one of the primary functions of your website. However, not all web forms are created equal. Our easy-to-implement web intake forms and pop-ups are completely customizable and seamlessly feed into the CRM for easy prospect follow-up.

Client activity alerts. Get real-time notifications when a prospect or client opens a campaign email, clicks a link, or browses your website. Call your contacts at just the right time—when they're most engaged.
Client help desk. An integrated ticketing system to answer your prospects' and clients' basic and repetitive questions.
Document management. 

File sharing tools keep all of your important documents organized and instantly accessible. Clients can easily share, access, and update files—all from the cloud.

Billing and accounting integration. 

We offer easy integration with accounting software like QuickBooks Online, SalesForce, and Xero to streamline your billing process.

Landing page builder. Spin up beautiful, ready-to-convert website landing pages in minutes with our drag-and-drop templates.
Video. Record, organize, and share videos directly from the system with no additional software required.
Nothing else like it.
Our software and consulting package differs three ways:
A. Specialized content.
Most marketing automation software tries to serve every industry and profession, so requires you to supply the content. But who has time to write and design multiple drip series tailored to each stage of the sales funnel?
The marketing automation portion of our software package comes pre-loaded with legal specialty-specific, high-quality educational content that will demonstrate your expertise and set you apart from your competitors.
Extensive and continually-growing bankruptcy, criminal, estates, injury, and Social Security disability content packages are included at no extra charge, including a 100-page book branded with your name and biography.
B. 4-in-1 package.
Marketing automation software usually includes one element – a non-specific CRM (customer relationship management). Our CRM for law firms contains:
1. A legal-profession-specific CRM that automatically sends quality educational content to your prospects.
2. Telephone software which tracks your follow-up efforts and allows unlimited dialing at no extra charge.
3. Complete analytics on one dashboard which makes it easy to measure marketing results by channel, expand the efforts which are working, and discontinue those that aren't.
4. Innovative review-generation software which will automatically build you an unrivaled collection of positive testimonials that you pre-screen before posting.
C. Marketing and business process advice.
Before we will consider licensing our software and investing hours in content personalization, software installation and staff training, we first analyze your marketing efforts and business processes.
We usually uncover wasteful marketing spending and nearly always find business efficiencies which can be had if modest changes are made. Monthly savings have ranged from 3 to 5 figures.
We charge nothing extra for our analysis and advice.
Your real cost will likely be $0
1. We are usually able to offset half or more of the cost of our software package with savings obtained by:
Eliminating your telephone bill,
Discontinuing or at least reducing ineffective marketing efforts, and
Dropping overlapping software and services that are no longer needed
2. Your big payback will come from increased revenue. If after reviewing your practice we don't believe that our software and the business process improvements that come with it will generate more clients, we won't license our software and content to you. Period.
"James' marketing and business process analysis is saving me $14,000 every month in previously-wasted spending." Phil Lemmons
"My caseload has more than doubled. 90% of my new clients say they contacted me due to the positive reviews that James' software generated." Loren Etengoff
"My incoming calls have jumped and my revenues are up 22% since retaining James." Howard Snader
These practitioners continue to see steady improvement in their numbers after adding our CRM for law firms to their practices.
We talk to them and their teams almost weekly as part of our service. We provide ongoing training, introduce them to unused features, and continue our personalization and content additions.